Suitable for all common
desktop sizes
Capacity 125 kg

Height Range
62-127 cm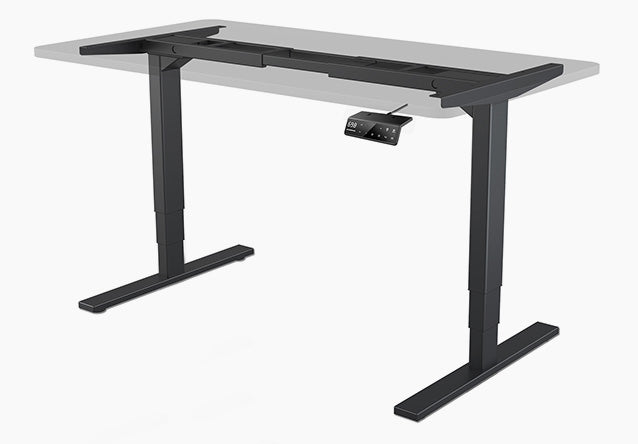 Dual motor
lift mechanisms
Multifunction touch and
screen keyboard

Speeds
up to 40 mm / s
Suitable for different styles of desktops, DIY your electric height adjustable desk
Maidesite T2 Pro Plus fits almost all common sizes of desktops and also fits perfectly with desktops in different colors and styles for home and office decor.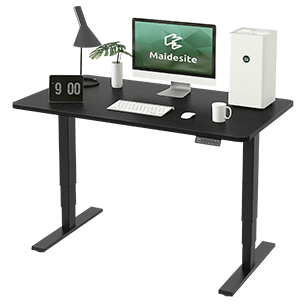 Black + Black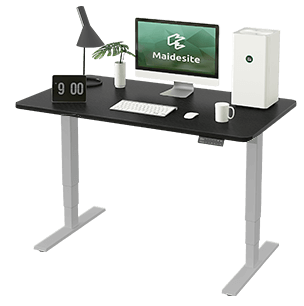 Black + Gray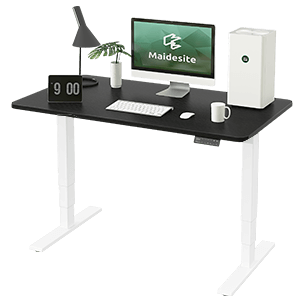 Black + White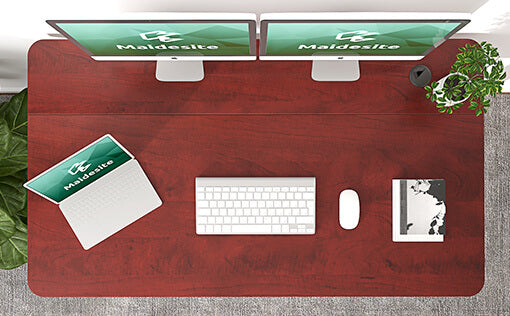 Maple + Black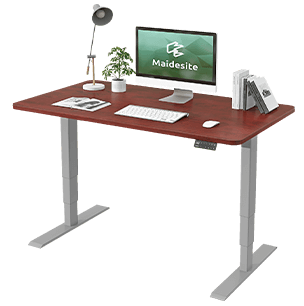 Maple + Gray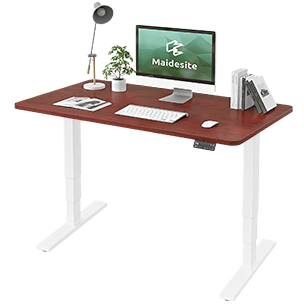 Maple + White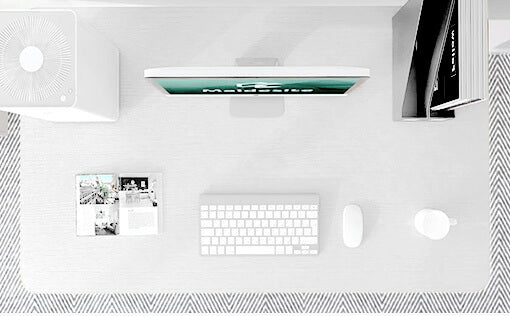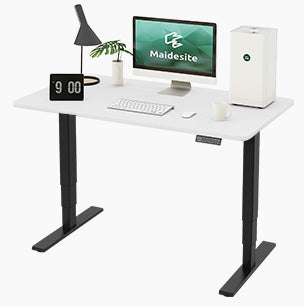 White + Black
White + Gray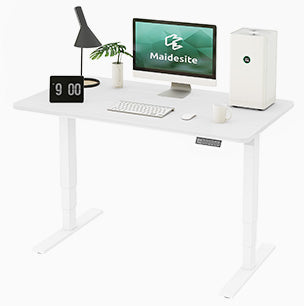 White + White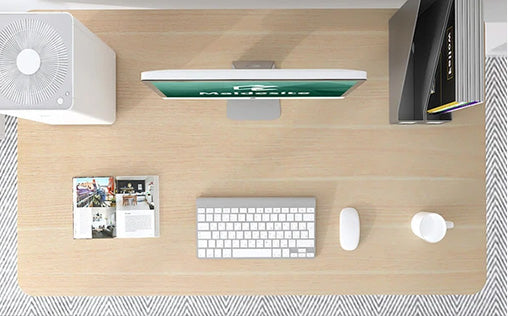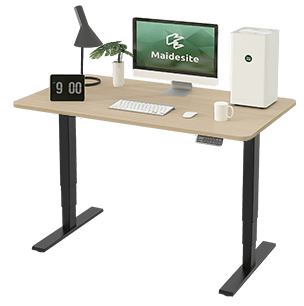 Wood + Black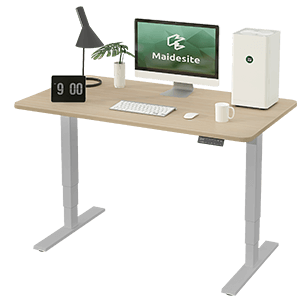 Wood + Gray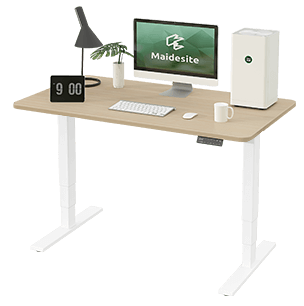 Wood + White
T2 Pro Plus - DIY the most stable height-adjustable desk
Regardless of whether it is raised to the highest height or the lowest position, even at a speed of 40 mm/s fast-moving, the items on the table do not wobble.
Premium material from the Top 500 like NXP, Honeywell, and Akzo Nobel, it also uses a dual-motor lifting system, a double T support structure, and a 3-stage lifting column.
Expandable to compatible with most UK desktops
The standing desk frame supports 120-180 cm laminate, MDF, solid wood, bamboo, and glass desktop
More Powerful
Unlike other models, T2 Pro Plus is much better at performance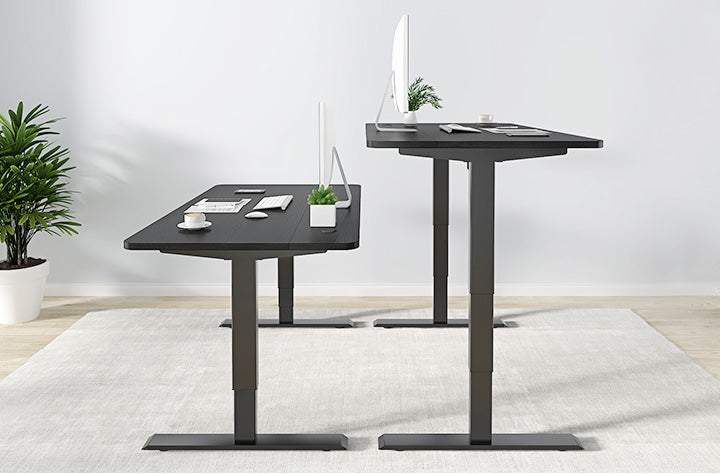 Height adjustment for most UK people
The height-adjustable range is 62- 127 cm. Almost everyone can find the ideal table position for themselves, regardless of whether they are 5, 6, or 6.3 ft tall.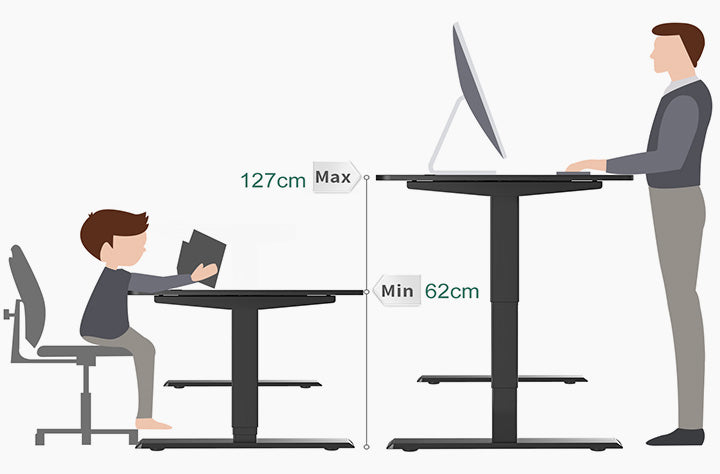 Anti-collision system to protect your desk
The T2 Pro Plus has an advanced anti-collision system. If the height-adjustable desk encounters resistance when it is raised and lowered, the desk will reverse to keep your furniture, pets, and children safe.
Premium LED touch screen Control
Panel
4 Programmable Memory Heights preset
Sitting/standing reminder: Notify you to stand up every 0.5-1-2 hours to relieve the neck, and low back pain by prolonged sitting.
USB rechargeable port: The USB outlet provides an easy way to recharge your smartphones.
Child lock: A child lock ensures more security and prevents unintentional use of the touchpad by children or pets.
Cable management system
Use our cable management system to organize your electronic accessories by stowing all cables in the spacious frame to keep your desk tidy.
Secure Payment
You pay absolutely secure as our store is PCI compliant and SSL-encrypted
FREE Shipping
Maidesite ship every package by DHL and DPD to ensure fast and safe delivery within 2-5 working days within UK
30 Days Return
All products you received enjoy 30 days of the hassle-free return
5 Years Warranty
All Maidesite standing desks, and frames are covered by a 5-years warranty